Orthodontics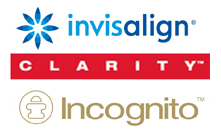 Orthodontic treatments are used to treat crooked teeth, spaced teeth, problems relating to extra teeth, missing teeth, crowded teeth and misaligned jaws. The correction of alignment problems can be undertaken at any age and, although many people still associate orthodontic treatment with childhood, the development of less noticeable or "invisible" braces has prompted many more adults to explore and opt for this line of treatment.
Everyone wants the very best result from their orthodontic treatment and we have a highly-experienced Orthodontic Specialist available to our clients. Dr. Pratik Sharma is a hospital consultant in Orthodontics and a member of the British Orthodontic Society and European Orthodontic Society. He is an established specialist in his field and has extensive expertise in treating both adults and children with all the most up-to-date brace systems.
He will advise the best option for you from a range of orthodontic treatments including the new, more aesthetically-pleasing and invisible systems such as Invisalign ® (clear aligners), Inman Aligner ™, Clarity ™ (tooth-coloured ceramic braces) and Incognito ™ (invisible lingual braces). He also uses Damon ® braces, the more advanced type of traditional metal braces.
Types of brace treatment
Clarity ™ Brackets
Clarity ™ brackets are made from ceramic materials. They are designed to blend in with your teeth and smile, so are far less noticeable than traditional braces.
Invisalign ®

The Invisalign ® treatment uses a series of aligners that are clear and virtually invisible. While traditional braces need to be retightened regularly, Invisalign ® patients need only visit our orthodontists when it is time to pick up a new set of clear aligners. Invisalign ® wearers reap all the orthodontic benefits of traditional braces without letting anyone know that they are undergoing an orthodontic treatment. Find out more about Invisalign here.
Inman Aligner™

Inman Aligner™ treatment is normally completed within 6 to 16 weeks. It can be used to re-align teeth which are crowded, rotated or protruding, or where there is a crossbite. It is also suitable for treating orthodontic relapse. The Inman Aligner™ system uses aligners which are removable, so they can be taken out to fit in with specific lifestyle requirements.
Incognito™ Lingual Orthodontics

Lingual braces are fitted to the inner surfaces of your teeth and provide the most "invisible" type of orthodontic treatment. These are fixed braces which are able to achieve effective tooth movement but with the advantage of the braces not being visible. The Incognito™ system offers the highest patient comfort that is technically possible and both of our orthodontists are Incognito™ certified and able to provide this type of orthodontic treatment.
The Damon ® System

Damon ® System braces are self-ligating brackets which allow the teeth to move freely, quickly and comfortably. Unlike conventional braces, Damon ® braces do not require elastic ties to hold the wire in place. This results in less plaque collection, making dental hygiene easier to maintain throughout treatment. This system often requires fewer adjustments resulting in less interruption to your daily schedule.
If you are looking to book an appointment with an Invisalign Chingford Specialist, please call us on 020 8529 1246.